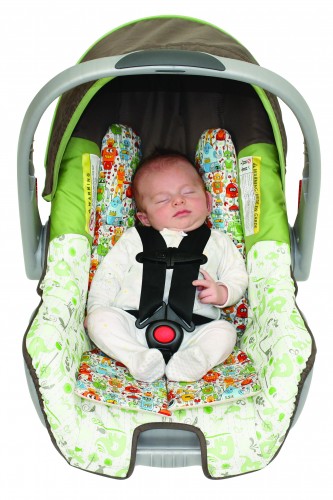 The Natures Sway Breathe Easy insert provides natural support in a baby car seat.
The unique design and durability of our other products is already well known. Now we're promoting natural support for your babies while travelling in the car.
Baby car seats are the latest products to come under scrutiny with regards to infant safety.  For some time it's been recommended that babies aren't left to sleep for extended periods in their car seats as this can lead to breathing difficulties.  Ideally babies shouldn't spend longer than half an hour in the car and car seat use should kept to essential travel as a lack of oxygen can impair brain development and even contribute to SUDS.
At the request of various customers and the educators at Mama Maternity, we've created the Breathe Easy baby car seat insert to help counter the problems of poor or unsupported posture while travelling.  With our insert, baby's chest area is elevated and the head sits back so that the chin doesn't slump onto the chest and impair breathing.  The side cushions mean that baby can sit comfortably with their head supported in the upright position, which promotes healthier posture and better skull development, as it reduces pressure on the back of the head.
The Breathe Easy is a slim addition to any 5 point harness baby car seat – simply insert it into your existing seat and you are ready to go!  It's made from natural wool and cotton fibres that help wick away moisture to keep baby cool in the summer and warm in winter. It has a removable cover that's fully washable and it comes in a diverse range of unisex prints – making it the ideal gift for any new baby.
The mother of our model had this to say:
"We had been looking for an effective product to keep our son's head steady and we really struggled to find one. We tried two different products before getting the Natures Sway Breathe Easy insert. They did nothing to improve posture and our baby's head was still slumped forwards. I also found he would get very hot and sweaty as the top of his head was covered by synthetic fibres. I was constantly worrying about whether he was breathing properly or getting too hot. The Breathe Easy insert solved all those problems. It enabled our son to sit up straighter, opening up the airways in his throat. The support at the sides of his head are so good that his head hardly moves when we go over bumpy roads. That keeps him calmer in the car which is an extra bonus! Thanks to the natural fibres he also keeps a lot cooler and his back does not become sweaty like before. I cannot recommend this product enough! "  Sophia Panayiodou
The Breathe Easy infant car seat insert:
elevates baby's chest area, ensuring the head is off the chest for improved air flow
provides extra padding on sides of the head to keep baby upright
is made from natural wool padding to help regulate baby's temperature
has a down-proof inner to ensure no wool irritation
includes your choice of coloured cotton cover – easily removed for washing
suits babies from new born to 10kg
fits in most approved 5 point harness baby car-seats 
As with all Natures Sway products, the Breathe Easy is ethically manufactured using sustainable materials. You will be proud to purchase such a stylish NZ made baby essential that gives better posture to your baby and peace of mind to parents.   It may be just what you were looking for…
The Natures Sway Breathe Easy: optimising baby's head support wherever baby goes.  Follow this link to purchase: www.naturessway.co.nz
A note about baby car seat safety
The Breathe easy insert may not be suitable for very small or premature babies. Always follow the advise of your caregiver and contact us if you have any concerns. This product has been on the market since 2013 with a number of very happy customers and all positive feedback. Crash tests will be considered, and several synthetic versions on the market have passed these dynamic tests, but the reality is that car-seat manufacturers will void their responsibility if any insert is used with their car seat whether or not the insert is tested.
Our intention is to give parents a natural alternative to the various synthetic inserts already on the market. Our design is so slim and firm that we are very confident it poses no risk to the functionality of the capsule as long as baby and the seat are strapped in correctly.  The Breathe Easy will not suit all car seats – some already have a lot of padding and extra support included.   Our insert is more than just a cushion or cover, it is a positional aid and offers help with the concerns of baby slumping over and/or overheating so we do not have any unnecessary cushioning on the top of the head.
Please follow the manufacturer's instructions for safe installation of your baby car seat and check out this neat list for safety factors from https://www.orbitbaby.com/articles/harness-safety
The straps should be snug with no slack to pinch. If you can pinch 'em, tighten 'em.
Straps below shoulders in rear-facing position; straps above shoulders in forward-facing position.
Don't forget the straps going over your child's thighs need to be snug also!
If you're not loosening the harness in order to take your child out of the seat, you're definitely not tightening the harness correctly.
Chest clip at the armpits. (It's a CHEST clip!)
Remove bulky coats before buckling.
Check your straps aren't twisted as that could reduce the effectiveness of the harness.