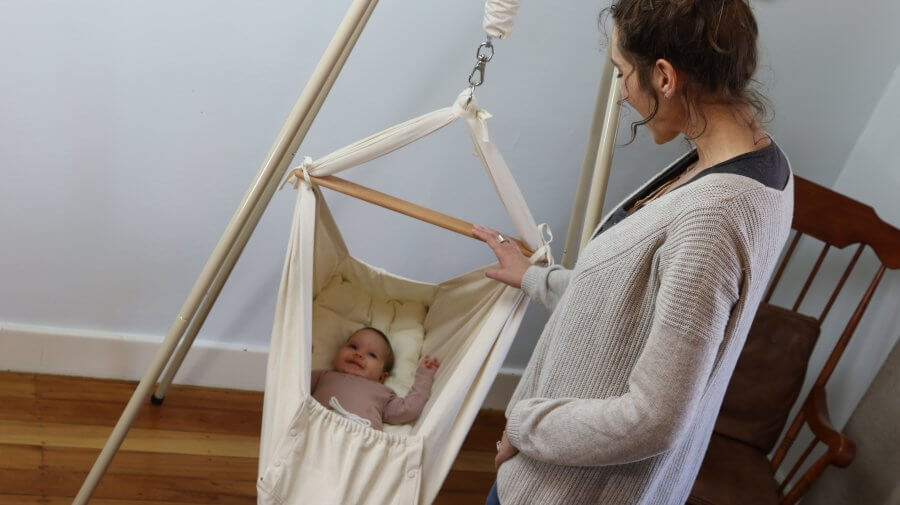 Natures Sway Baby Hammocks & Slings are celebrating 25 years of making suspended cotton baby beds and we are pleased to announce the arrival of a new range of New Zealand Made baby hammocks in a purpose-made fabric with a superior weave, softer handle and is well suited to the construction of a baby hammock.
This 100% cotton unbleached natural drill fabric is specially made for our baby hammocks. We have worked with our suppliers for many years and through our wonderful relationships have developed this fabric.
The cotton is grown and manufactured in China where many producers are becoming more environmentally responsible. Our mill has been very helpful in producing a natural fabric that is free of chemical dyes and bleach. It is pre-washed and ready to hang up for use.
Drill is an amazing fabric. It has a special weave which includes a diagonal pattern which increases the strength and stretch. The stretch makes for a more comfortable hold and ensures no pressure points on the hips or head. Our drill has not been bleached and you will still see some seeds from the original cotton plant. This means less overall processing and a more natural product with less impact on the environment.
Following a design improvement in 2010, the longer and flatter baby hammock has proven to be a popular and successful model. It offers just the right balance of firm back support and gentle curve, and its therapeutic action keeps baby safely on their back for those precious early months.
In an effort to be more efficient and sustainable, we have reduced the amount of stainless steel fittings by reverting to the earlier concept of utilising a simple tie to hold the hammock centralised and stable at the top ring. This vital piece of natural webbing is securely attached to the hammock (you can't lose it), and by keeping it tightly tied, it holds the hammock firmly in place no matter how wriggly your child becomes. Experience shows that by stabilising the hammock at the central point and keeping the wooden spreader horizontal and fixed in place, babies placed in the supine position will stay securely on their back. It is critical that the hammock is set-up and used according to our instructions to assure safe use of the hammock. No homemade adjustments should be made without consulting the manufacturer.
Natures Sway Baby Hammocks have always used and continue to use high grade stainless steel and other metal attachments that have been strength tested and rigorously checked. Stainless steel parts will not wear, stain or flake. The metal-wire spring – which has a safety strap sewn within it – will ensure the hammock will hold your baby securely from wherever you choose to safely suspend it. Breaking weights are over 200kg. The wooden spreader is made of New Zealand red beech, a wood with high strength properties and exceptional dimensional stability.
Once babies start trying to pull up or roll about in the baby hammock it means it is time to move them on to their next sleeping environment. For the babies who like to stay in the hammock longer than 6-8 months, you can still upgrade to a full one metre mattress, stiffener and the new heavy-duty spring.