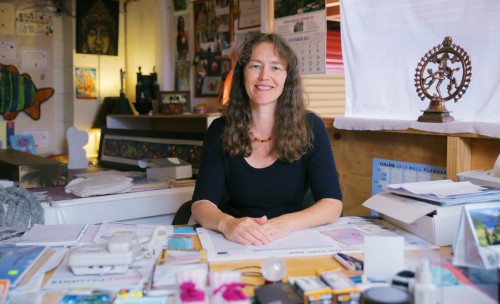 It wasn't until 1993, when I had my first baby, that my winning product was discovered – quite by accident. I was selling my other wares at the Titirangi Market with my newborn daughter, who was in a baby hammock I'd sewn from calico. I had it suspended from a tree behind me and it created a lot of attention. Soon I was taking orders for hammocks, rather than the baskets and plants I was trading! A couple visiting the Market sent a hammock to some friends in Switzerland, who, after sampling bought 100 units off me. Within a year they were buying around 200 from me every second month. These quantities of scale transformed our cottage industry. I employed outworkers to do the sewing and learned the processes involved in exporting to Zurich. The Swiss are very strict on quality control, and from the outset Natures Sway had stringent procedures in place. This arrangement continued for over 6 years – until they began manufacturing their own. Fortunately, we had also started trading with a Danish couple who were branding consultants and keen to promote Natures Sway in Scandinavia. My early experiences taught me that a good business relationship is not just based on a legal contract, but requires mutual respect and values as well. It is very difficult to stop someone from copying your product but what I protect and value most is our name and our brand identity.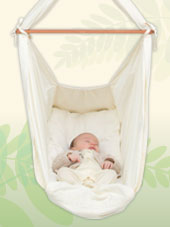 Natures Sway was initially supported as a part-time venture, until it was able to hold its own. This meant that growth levels were slow but steady. The ethos of Natures Sway revolves around healthy infant development through gentle nurturing and attachment parenting. I wanted to balance spending quality time raising my children with being what is – nowadays – known as a 'Mumpreneur'. I was in the position of having to create a home for us all at our factory, so I didn't have two sets of outgoings and could still be there for my children while I worked. Natures Sway was built on the idea that the early months and years of a child's life need to be a welcoming and wholesome experience. Having emotionally intelligent citizens with the ability to think outside the box is important for the future of our planet.
Happily, over the last two decades the business has become established as a reliable brand. During this time I've been able to make gradual refinements to the products, in line with consumer demand, and I'm pleased with the results to date. In order to grow more now, we need to access the geographic areas which have been highlighted by our internet traffic. The old model of distributorships has changed with web sales, but getting your products out there and running day-to-day operations at the same time is challenging.
My personal strengths lie more in the creative and hands-on production side yet I appreciate the privilege of being a director. I like to keep learning and challenging myself with projects and tasks.  My team has a diverse range of skills and I love seeing us running like clockwork, with everyone pulling together to make the best quality products we can. I've been fortunate enough to employ and do business with people of many nationalities, who have chosen to live and work in our beautiful country. I feel proud of our #8 wire mentality and the fact that I can bring this to Natures Sway. Our customers are very pleased to be purchasing New Zealand-made, locally sourced products and I love seeing their enthusiasm at events like the Baby Show.
Currently, I count surviving the recession as one of our biggest successes. Natures Sway is a well-established brand with steadily growing internet sales and a good reputation for customer service. Our organic growth has meant we have never had a lot of financial exposure, so were mostly sheltered from the effects of the Global Financial Crisis. I feel that New Zealand needs to support more businesses that utilise Green technologies, and it's a shame that some of the enterprise courses and schemes that were being run in the 90's no longer exist. Most of our workers are self-employed contractors, who work from home and choose their own workload. In-house we recycle, use natural packaging and keep plastic components to a minimum. We have a hemp/organic cotton blend fabric in our range as hemp is a naturally organic, sustainable crop. We endeavour to make products that last for successive babies, and even generations. In my opinion there's more to life than the profit-driven motive. This is what Natures Sway represents, and people are coming back around to this idea.
I think that striking the right balance between being innovative and responding to customer demand is the key to having a successful business. It is my passion to educate people about the importance of supporting infants naturally early in life, so as well as creating a demand for Natures Sway products I am now able to capitalise on the growing trend towards more conscious living. My future focus is on continuing to get the message out there. I am now in a position of being able to take more risks; my kids are grown and I have an established brand to promote. With a continued focus on expanding our international markets, hopefully we will just keep going from strength to strength".